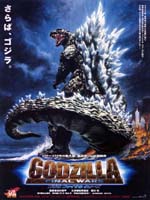 Godzilla: Final Wars (2004)
Japanese Name: Gojira: Fainaru u˘zu
U.S. Release: 2005
Director: Ryuhei Kitamura
Running Time: 125 Minutes
Monsters In: Godzilla, Monster X, Mothra, Hedorah, Rodan, Angilas, Gigan, Manda, Kumonga, Kamacuras, Ebirah, Minya, King Seesar, Zilla, Keizer Ghidorah
More than 10 monsters appear in the world at once. The United Nations wages final wars against the monsters combining the power of all the Earth Defense Force to save mankind. However, people are panicked by the enormous power of the monsters and the forces take the defensive.
While the intense fighting continues all over the world, suddenly, an enormous flying object appears and extinguishes the monsters with a beam in a matter of seconds. And then, aliens who call themselves "Xiliens" propose a peace treaty with the Earth...
Meanwhile Godzilla is sleeping calmly in Antarctic ice at that time...
Cast
Masahiro Matsuoka .... Earth Defense Force Soldier Shin'ichi ďzaki

Rei Kikukawa .... UN Molecular Biologist Miyuki Otonashi

Akira Takarada .... UN Secretary General Naotar˘ Daigo

Kane Kosugi .... M-Facility Soldier Kazama

Kazuki Kitamura .... The Alien from Planet X

Maki Mizuno .... Newscaster Anna Otonashi (Miyuki's older sister)

Masami Nagasawa .... Shobijin (Twin Fairy)

Chihiro ďtsuka .... Shobijin (Twin Fairy)

Mick Preston .... New York Cop

Kenji Sahara

Kenji Sawada

Shinji Suzuki .... Mutant Soldier

Masanobu Takashima

Yasuhiro Takeuchi .... Atragon crew member